Renovation and Remodelling of a private residence

This splendid 4 bedroom detached house was fully renovated and remodelled to the Turquoise quality. The electrical systems, plumbing, structural façade and interior decor and design were all upgraded to a modern contemporary look. .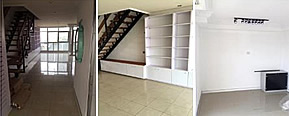 1004 Flats Renovation and Remodelling

The standard interior design that was incorporated in this estate complex 35 years ago, has been upgraded to this new contemporary look
Conversion of a 5-bedroom duplex into office building

This 30 year old 5-bedroom duplex home is on its way to be remodelled into an office building
Construction of 4 schools in slum areas of Lagos state.

The client Lagos state awarded Turquoise Limited as sub-contractors in the construction of 4no. 3- storey building schools, in the slum areas of Lagos state. These schools were constructed and finished to the highest possible standards the building codes permitted.